FOUNDATION
The IELB was organized on June 24, 1904, as a result of missionary efforts of the Lutheran Church - Missouri Synod.
STRUCTURE
The basic structure of the IELB is the congregation. Two or more united congregations form a parish. Congregations and parishes together form a district.
NUMBERS
The IELB has about 220,000 members in more than 1,600 congregations and mission stations in Brazil and other countries, which are served by more than 600 pastors.
AUXILIARY ORGANIZATIONS
The IELB has many national auxiliary organizations: League of Lutheran Women (LSLB), League of Lutheran Laymen (LLLB), League of Lutheran Youth (JELB), Association of Lutheran Education (ANEL).
SCHOOLS
The IELB has hundreds of schools at all levels. It has two schools of theology (one in São Leopoldo, Rio Grande do Sul, and another in the city of São Paulo). It also has the first Lutheran university in South America: The Lutheran University of Brazil (ULBRA), with its headquarters in the city of Canoas, State of Rio Grande do Sul.
PUBLISHING HOUSE
The IELB has a publishing house, Concórdia Editora (Concordia Publishing House), responsible for the production of newspapers, books, liturgical materials, and other materials for congregational use.
NEWSPAPER
IELB'S official newspaper is the Mensageiro Luterano (Lutheran Messenger). It is published monthly with formative and informative content. To send a message to the editor, please click HERE. To check out texts of the last edition of the newspaper (in Portuguese), please click HERE.
SOCIAL SERVICES
The IELB has many organizations of social services, like AELB - Evangelical Lutheran Beneficent Association (house for children and elderly), ALAN - Association for People in Need -, AME - Association Friend of Children - and Centro de Acolhimento Martinho Lutero - Shelter Martin Luther (which work with poor children).
RADIO
The IELB maintains hundreds of radio programs, part of them coordinated by Hora Luterana (the Brazilian Lutheran Hour), with its headquarters in the city of São Paulo, State of São Paulo.
CHURCH RELATIONS
The IELB works with another Lutheran Church in Brazil on the production of various materials. This joint venture is coordinated by CIL (Inter-Lutheran Literature Committee), a committee of both Churches. Both Churches also promote ecumenical dialogue by a committee called CID (Committee of Inter-Lutheran Dialogue). The Church is also affiliated to the International Lutheran Council.
HEADQUARTERS
The IELB has its Administration Center located at 894 Lucas de Oliveira Av., Mont'Serrat, Porto Alegre, RS, Brazil. 90440 010. Telephone: 051 332 2111. Fax: 051 332 8145. E-mail: ielb@zaz.com.br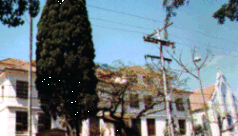 IELB's Headquarters
WE ARE LUTHERANS
The Lutheran Church is part of the
Christian Church, founded by the Apostles
of Jesus Christ. Lutheranism had its
beginnings in 1517, when Martin Luther
publicly called for the correction
of errors in the medieval Church.
Luther was a pastor, professor, author,
composer, and reformer. His ideas still
stimulate new thinking in the church.

WE ARE MEMBERS
OF THE EVANGELICAL LUTHERAN
CHURCH OF BRAZIL (IELB), one of
the Lutheran Churches in the world.
IELB testifies to God's truth as
expounded by the Lutheran Confessions,
the Book of Concord of 1580.
---



Since October 15, 1997

(Click here for daily statistics on this page)